Top 10 Most Beautiful Canal Cities In The World
10. Can Tho, Vietnam
The large Vietnamese city of Can Tho located in Mekong delta, in the center of networks of canals and rivers. The total water traffic length of the city is 1157 km. The Hau River, the biggest branch of Mekong River run along the Northern side of the city.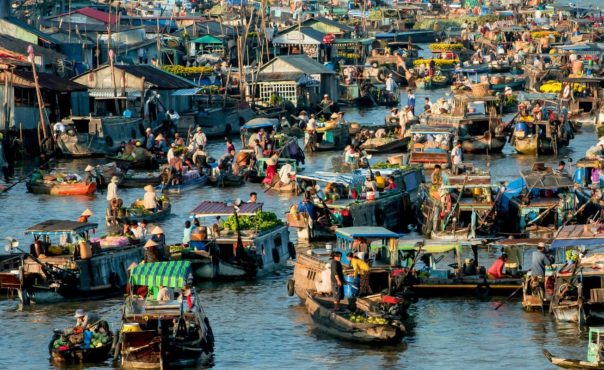 Apart from immense networks of canals the floating markets are the main attraction of Can Tho city. The merchant boats down the river offers you all varieties of goods. The famous Cai Rang market is the largest floating market in Can Tho city. Touring floating markets is the best way to get local goods and cultural aspects of the city.
Cần Thơ is the fourth-largest city in Vietnam, and the largest city in the Mekong Delta.
It is noted for its floating market, rice paper-making village, and picturesque rural canals. It had a population of 1.2 million as of 2011, and is located on the south bank of the Hau River, a distributary of the Mekong river. In 2007, about 50 people died when the Cần Thơ Bridge collapsed, causing Vietnam's worst engineering disaster. In 2011, Can Tho International Airport opened.
The city is nicknamed the «western capital», and is located 169 kilometres from Ho Chi Minh City. Cần Thơ's climate is tropical and monsoonal with two seasons: rainy, from May to November; and dry, from December to April. Average annual humidity is 83%, rainfall 1,635 mm and temperature 27 °C (81 °F).